Regular price
Sale price
$49.99 USD
Unit price
per
Sale
Sold out
Description

Get the ultimate at-home facial experience with a relaxing and cooling facial massage experience using The Skin Freeze's Beauty Globes, our NEWEST facial tool addition to the Skin Freeze range!

The Ice Globes are glass orbs specially designed to be stored in The Skin Freeze Beauty Fridge so that they are nice and cold on your face.


Use The Skin Freeze Globes with serums on your skin, assisting in absorbing key active ingredients from your skincare routine and promoting lymphatic drainage. The cooling effect of the globes will help combat puffiness, wake up tired eyes & help promote circulation for a brighter complexion, aiding to help to shrink pores, heal and renew skin.
Specifications

Benefits:

Calms: Helps to calm irritation and redness, reducing pigmentation and revealing a more even skin tone

Firming: Helps to reduce fine lines and tighten and plump the skin to bring back your natural glow.

Soothes: Helps soothe sinus pain while providing natural muscle tension and headache relief.

Rejuvenates: Lymphatic drainage by stimulating blood circulation and oxygenating the skin, speeding up the removal of toxins and waste to brighten your complexion
Share
View full details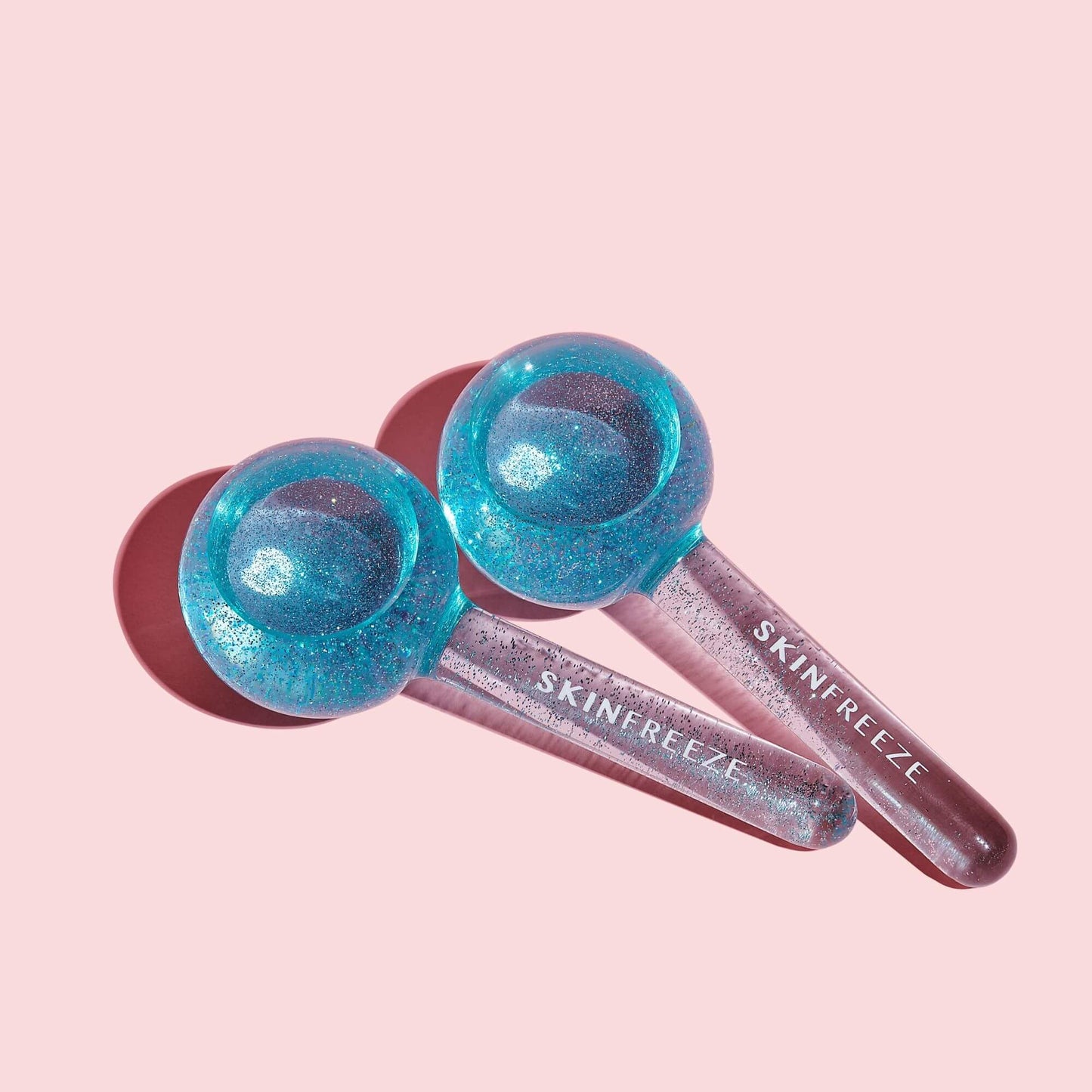 Never walk outside with mismatched foundation again.
FAQ
Why do you need to have an ice globe for your skincare?

Ever used a chilled spoon to reduce your under-eye puffiness? Or rubbed an ice cube across your face to give yourself a rosy glow? These old-school methods are great in a pinch, but they're not always pleasant! Melting water and cold metal doesn't exactly make you feel glamorous. In fact, direct contact with ice or frozen metal can actually damage skin cells!

To get the benefits of skin icing (also called facial cryotherapy) in a safer, more soothing way, you need a facial ice globe. This innovative beauty tool is drawn from Korean beauty practices. These gentle face massagers can be chilled, giving you the benefits of both lymphatic drainage and puffiness reduction. Plus, they feel nice on your face — no dripping water or biting metal.

Here are some of the many benefits of facial ice globes:

They promote circulation.

When you apply a cold substance to your face, blood flows away from your capillaries (the tiny vessels near the surface of your skin). As your skin warms back up, blood returns, giving you a fresh glow and pumping nutrients into all your cells. This can boost cell rejuvenation and healing. If you're using a product such as a serum, this helps your skin absorb the active ingredients more effectively.

They improve lymphatic drainage.

Your lymphatic system transports white blood cells throughout your body through a fluid called lymph. It also removes metabolic waste. If you're sick or stressed, your lymph nodes, especially those below your jaw, become swollen. Facial massage is an excellent way to promote lymphatic drainage — but if you're not careful, you could damage your skin as you rub it. Facial ice globes offer a gentle, soothing massage that clears lymph blockages. Many people have also seen reduced puffiness and less acne from lymphatic drainage.

They reduce pore size.

While your pore size is ultimately genetic, they do shrink in response to cold temperatures. So, using a facial ice globe can minimize the appearance of your pores. Meanwhile, you're getting the benefits of improved circulation and lymphatic drainage, which helps your skin heal. The result? A soothing treatment for acne-prone skin.

They firm and smooth your complexion.

Thanks to the improved circulation and reduced puffiness, facial ice globes also help skin appear firmer and smoother. That's because well-nourished skin boosts collagen and elastin production, leading to tighter skin and fewer fine lines. In fact, research has shown both lymphatic drainage and cryotherapy to minimize sagging! This makes facial ice globes the perfect anti-aging tool.

Here's how you can use your facial ice globes. Ideally, you own two to give yourself a more balanced massage.

For lymphatic drainage, start in the center of your forehead and glide the globes outward and downward. Then move to the cheekbones and repeat the motion. Finally, roll the globes from under your nose down around the sides of your mouth.

For skin tightening, reverse the above routine. Begin in the center of your chin and glide your ice globes out and upward toward your lower cheeks. Work your way upward until you are starting in the center of your forehead and massaging up toward your temples.

For fixing dark under-eye circles, gently roll the globe below your eyes down toward your cheekbones. Be very careful as the skin here is quite delicate! You can also simply press each globe under your eyes for a minute or so.
What type of facial ice globes does Lumina Pro offer?

Lumina Pro's Facial Ice Globes come in a set of two — perfect for doing the massage techniques described above. They are large enough to provide overall coverage for a quick pick-me-up yet small enough to focus on your eyes and any other problem area.

Made with durable, soothing materials and filled with a beautiful glittery blue chilling fluid, Lumina Pro's facial ice globes can be stored in your freezer or our Skin Freeze Beauty Fridge. They will not freeze completely, so you can get the benefits of cryotherapy without damaging your skin with ice or frozen metal.
Why buy facial ice globes from Lumina Pro?

In our stressful, busy lives, it's crucial to take time for self-care. Our faces are the first place we show stress, and as we age, our skin loses elasticity and vibrancy. Facial cryotherapy is a simple yet powerful way to boost circulation, promote healing, and firm up our skin for a healthy, youthful glow! It also makes your prized skincare products work better. Plus, it feels amazing.

Skip the spa and get the benefits of skin icing at home with your very own Facial Ice Globes from Lumina Pro. They're easy and fun to use and ideal for acne treatment, de-puffing, lymphatic drainage after illness, anti-aging, and good ol' fashioned relaxation. Your set of Facial Ice Globes will become your favorite part of your self-care routine!