Regular price
$599.99 USD
Regular price
Sale price
$599.99 USD
Unit price
per
Sale
Sold out
Description

This Hollywood vanity mirror is our flagship product, with a sleek all-glass surface accented by chrome sockets for its 15 LED light bulbs.

Fill your space with your favorite tunes while you get ready for your day or a night out. Simply pair your phone or another Bluetooth device to bring the dual speakers to life.
Specifications

Material: Aluminum frame + iron back + MDF rectangular base

Bluetooth Speakers: 2 m range

LED Bulbs: 15 pc x 3W

Weight: 40 lbs

Warranty: 12-month manufacturer warranty
Dimensions

Frame Dimensions

Width: 39.37 inches (100 cm)

Height: 29.53 inches (75 cm)

Depth: 2.36 inches (6 cm)

Base Dimensions

Width: 40.95 inches (104 cm)

Height: 7.09 inches (18 cm)

Depth: 2.36 inches (6 cm)

Package Size

Width: 53 inches (134 cm)

Height: 41 inches (104.14 cm)

Depth: 7 inches (17 cm)
Features

Bluetooth audio mirror
BULBS ARE INCLUDED
17 bulbs included (2 extra bulbs)
Built-in wireless Bluetooth speakers
Screen smart touch control (play/pause/next)
2 USB ports + 2 power sockets
Frosted LED bulbs
Pre-installed wall-mounting hardware
Minimal assembly required
Share
View full details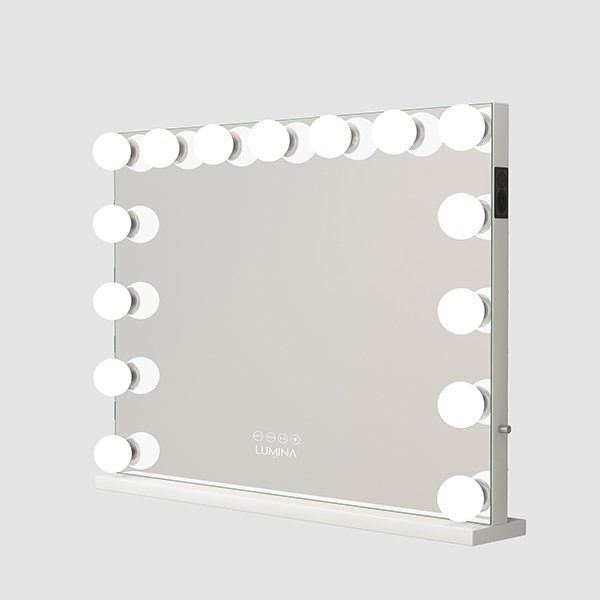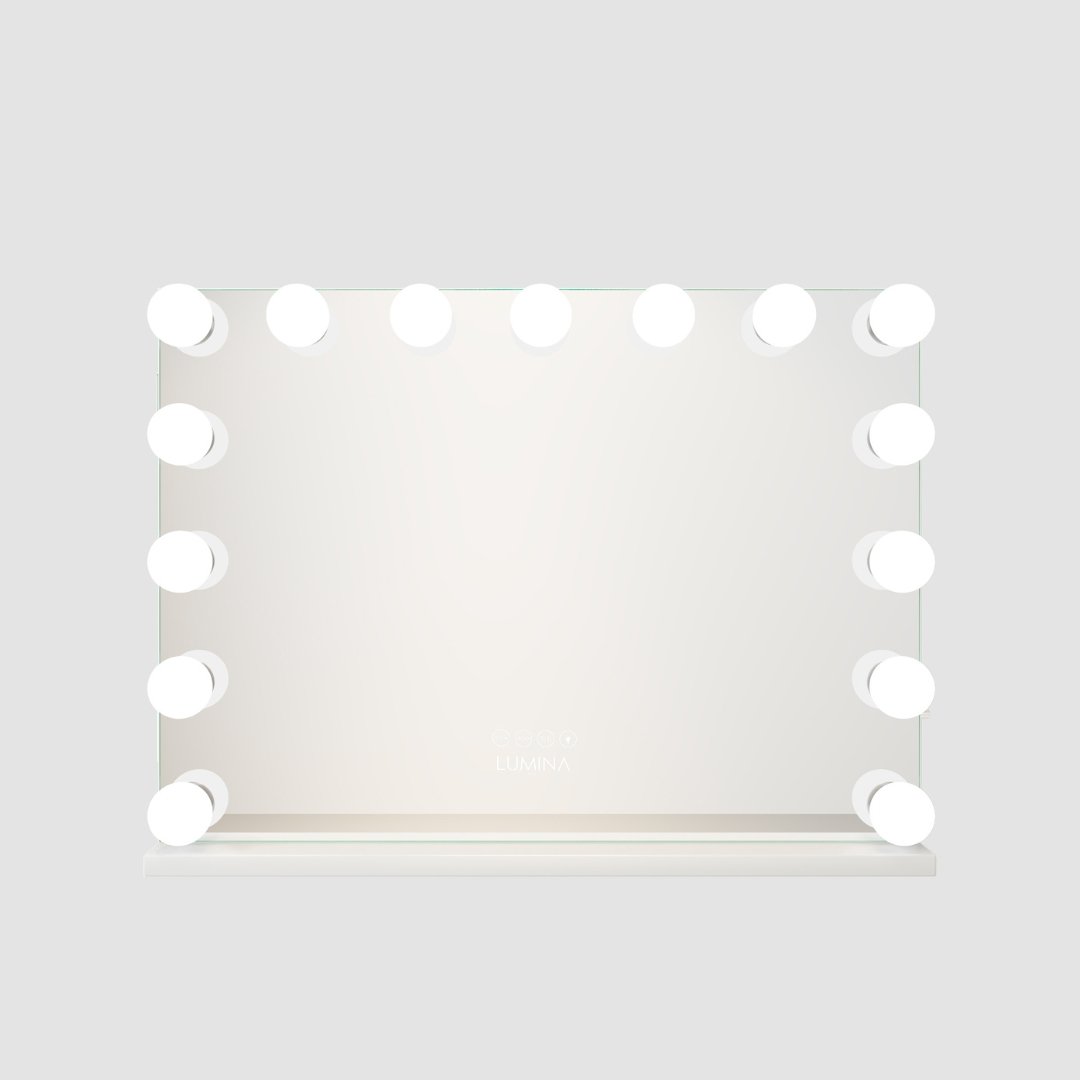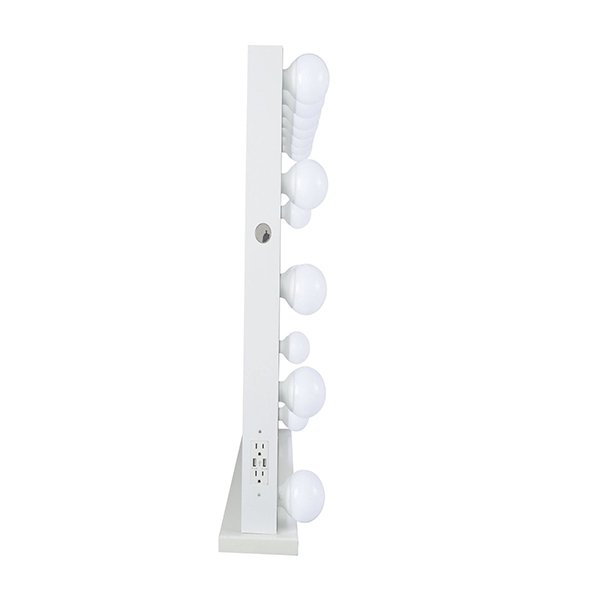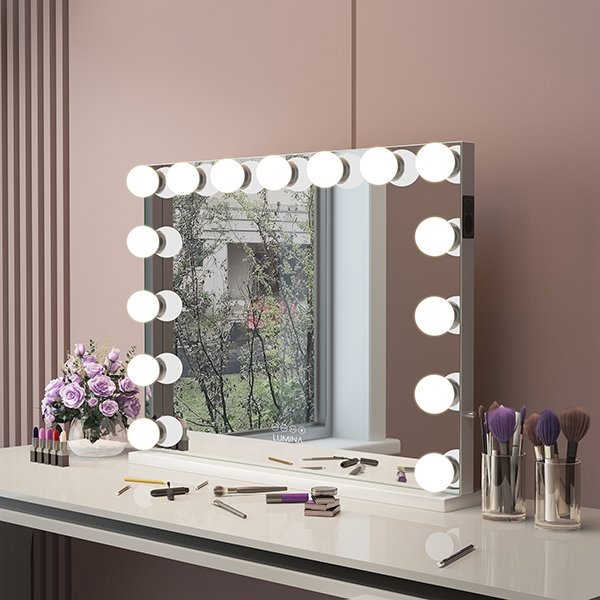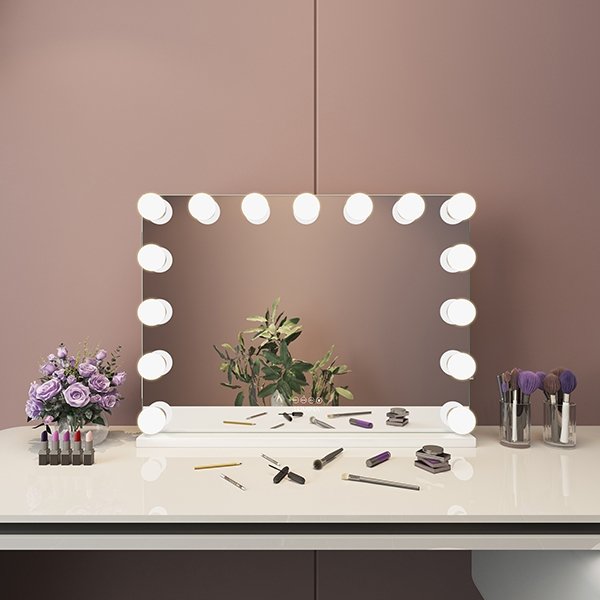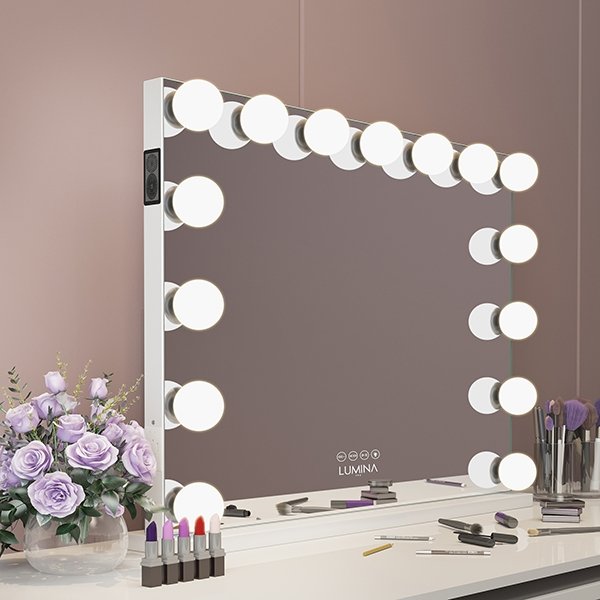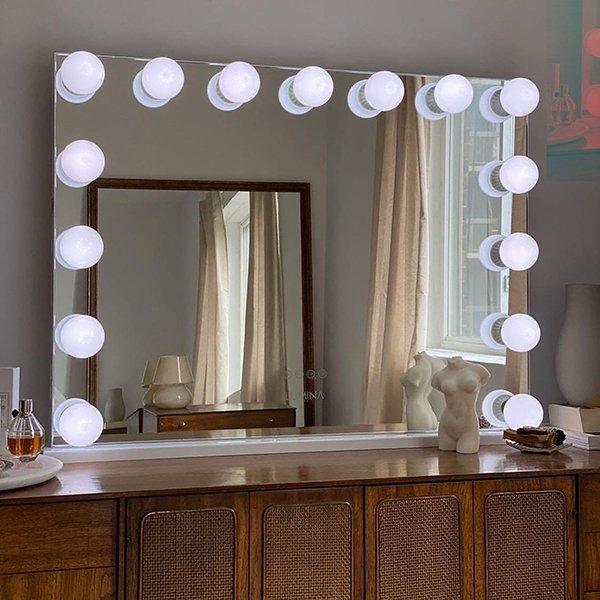 Never walk outside with mismatched foundation again.
FAQ
Does this LED vanity mirror come with adjustable light settings?

Yes, this beautiful mirror comes standard with 15 dimmable LED bulbs, perfect for professional MUAs and anyone who loves makeup. The smart touch dimmer allows you to adjust to your preferred light settings with ease, while keeping the color and color temperature of your light as close as possible to natural sunlight.
Can I plug my phone into this mirror?

Of course! This mirror is designed with 2 USB charging ports and 2 power outlets built in. This allows you to plug in your phone or other devices, as well as airbrushes, hair curlers and straighteners, hairdryers, and anything else you need.

This is perfect for charging your phone while keeping it within reach while you get ready. And when paired to the mirror's Bluetooth speakers, you can conveniently scroll through your music library or streaming app to pick the best tunes or podcast to get you in the right mindset for your day or night out.
Is this a full-length mirror?

The Hollywood Vanity Mirror with Lights and Bluetooth Speakers is full-size, but it isn't a full-length mirror, meaning it isn't designed for you to be able to see yourself from head to toe, nor is it a trifold mirror. This mirror is designed to give professional makeup artists and aspiring MUAs the perfect lighting for their makeup application, whether they're shooting makeup tutorials, preparing for a portrait or photoshoot, or getting ready for the workday or a night out.

This tabletop mirror is the perfect size for your vanity table. It also comes with pre-installed wall-mounting hardware, so it's detachable from your dressing table and ready to go if you want to use it as a wall mirror. While a compact mirror works great as a magnifying mirror in a pinch if you need to draw on some eyeliner, complete your dressing room with a Hollywood-style LED makeup mirror.
I already have a bathroom mirror with good lighting. Why do I need this?

Even strong bathroom lighting can have a color temperature that's too warm or too cool. It can also be too yellow, blue, or otherwise off-white. For the most professional makeup application, you need the kind of lighting that the pros use. The Hollywood Mirror with Bluetooth Speakers frames your face with 15 LED bulbs, eliminating shadows and giving you flattering lighting from every angle.

While you may be able to apply a stunning makeup design under the unique lighting of your bathroom mirror, it likely won't look as great under different lighting.

Get an accurate reflection of your makeup and natural coloring with this professional cosmetic mirror so you can create the best makeup design that will look great under a variety of lighting. Whether you're sitting under natural sunlight on a patio at brunch, under the fluorescents in the boardroom, or under flashing colored lighting in a nightclub, you can be confident that you'll look your best.
Is this makeup vanity mirror double sided?

No, this mirror is designed to complete your vanity table or serve as a convenient wall mirror wherever you need to apply makeup with professional-quality lighting. The Hollywood Vanity Mirror with Lights and Bluetooth Speakers is backed with sturdy iron. Its durable construction keeps this beautiful mirror looking great, providing a reliable, long-lasting solution for your daily makeup application.
Does the mirror come in rose gold?

No, our Hollywood Vanity Mirror with Lights and Bluetooth Speakers is designed to give you a crystal clear reflection while completing your vanity with a classic silver aesthetic. Your studio or getting-ready space will feel like an elegant Hollywood dressing room.
Do I have to buy the light bulbs?

Don't worry, the Hollywood Vanity Mirror with Lights and Bluetooth Speakers comes with 17 frosted 3W LED light bulbs. The mirror uses only 15, and two of the light bulbs are extra. They are included in case any of the bulbs don't work, and so you have easy replacements when or if a bulb breaks or burns out.
What's the range on the Bluetooth speakers?

The Hollywood Vanity Mirror with Lights and Bluetooth Speakers allows you to listen to your favorite music while you get ready comfortably. The range of the speakers is designed to reach 5.5 feet (2 meters), which is perfect for personal listening. Pair your phone or device to the Bluetooth speakers and play media from your library or stream your favorite tunes, podcasts, or even TV shows. Listen to what you want while you put on your makeup. Set the tone for the day or night ahead of you, and make your makeup routine or the application of your creative makeup design even more enjoyable.
Is this a good mirror for a professional makeup artist?

Yes! The Hollywood Vanity Mirror with Lights and Bluetooth Speakers is specially designed to provide professional-quality lighting for pro MUAs and anyone who wants perfect lighting for their makeup application. This cosmetic mirror is a serious upgrade from your bathroom mirror, with 15 dimmable LED bulbs that give you even lighting from every angle. This erases all shadows common with bathroom mirrors that can hide or alter the appearance of areas of your face. This mirror from Lumina Pro emits light similar in color temperature to natural sunlight, allowing you to see your reflection accurately so you can expertly apply your makeup design.

This mirror completes your vanity table, creating a space where you can comfortably prepare for a photoshoot or portrait, shoot makeup demos or tutorials, create content for social media or YouTube, or anything else you need to do for your business or to promote your brand. Use the 2 USB ports and 2 electrical outlets to plug in your phone so it stays charged while you're shooting video. No one wants to feel rushed by battery warnings or have their flow state ruined when their phone dies in the middle of shooting. You can also plug in your microphone, airbrush, and anything else you need to create your content and push your creativity with stunning makeup designs.
Will this mirror fit my vanity table?

The Hollywood Vanity Mirror with Lights and Bluetooth Speakers is designed to make your vanity a relaxing space where you enjoy getting ready for your day or a night out. This is a full-size mirror, and its dimensions will fit most vanities. The mirror comes with pre-installed wall mounting hardware if you prefer to use it as a wall mirror.

The frame dimensions are 100cm (39.37 inches) wide by 75cm (29.53 inches) high and 6cm (2.36 inches) deep. The base dimensions are 104cm (40.95 inches) wide by 18cm (7.09 inches) high and 2cm (.79 inches) deep. So if your vanity table is more than 1 meter (3.28 feet) wide, it should fit comfortably.
Does this mirror come in different color lighting options?

No, this vanity mirror is designed for pro MUAs and comes standard with cool white 3W LED light bulbs with adjustable brightness. White light is the best lighting for makeup application, as it's the closest you can get to full sunlight while indoors. It's important that the color temperature of your lighted vanity mirror is as close to natural light as possible, so your makeup application can look its best in various settings.

While color lighting is among the lighting modes used by some makeup artists, it can drastically alter the way you look in a mirror, which can adversely affect your makeup design. When you apply your makeup, you have to be able to see what you're doing. And if you're using color lighting, you'll make decisions based on what you see under that light, not the way you look in reality. This will have unwanted effects when you step into real-world lighting conditions.

Here's how different colors affect the way you see yourself in the mirror:

Yellow light will make cooler hues appear dull and make warmer hues appear sharp. Reds, yellows, and oranges appear more vibrant under yellow light, and greens and blues have a muted appearance.

If you use warm, yellow light you sacrifice brightness and clarity. The result is your face looking tired and sick.

Blue light brings out the imperfections in your skin. Fluorescent lighting is notoriously unflattering for this reason. This is because reds absorb blue light. Imagine every blemish or dark spot exaggerated under this unforgiving light. The result is that you'll likely overcompensate for your perceived uneven skin tone in your makeup design, which won't look its best under sunlight or more natural light.

It can also lead you to go too light on makeup in certain areas. Blue light intensifies shadows, which means you might think your eyeliner, eyeshadow, or mascara is darker than it is. As a result, you might apply less than you normally would, resulting in an uneven makeup design.

Blue light also makes neutral colors appear deeper. Nude lipstick, for example, appears pinker under blue light than it is in reality, and orange tones (including bronzer) will seem more brown.

Orange or rose-colored light intensifies yellows, reds, and oranges and mutes greens and blues. While getting as close as possible to natural sunlight at noon is always the goal with makeup lighting, rose-colored light is similar to light from a sunset or candlelight. This will affect your bronzer and lipstick color because reds and browns will be highlighted.

You may look great under rose-colored light, but it will make it difficult to apply your makeup accurately. You can miss blemishes that are hidden by the flattering light and cause you to apply your makeup unevenly. It can also intensify rosacea and other skin conditions, making you apply too much foundation or powder.

The best lighting for professional makeup application is white light. The diffused white light from these dimmable bulbs will help create an accurate reflection, making your makeup application easier and helping it look its best.
How heavy is the mirror?

The Hollywood Vanity Mirror with Lights and Bluetooth Speakers weighs 40 pounds (18.14kg), about the same as a small sack of potatoes or a medium bag of dog food. It should fit comfortably on your vanity without causing undue stress to the structure of your furniture. The pre-installed wall mounting hardware is designed to safely support the weight of the mirror as you conveniently place it in your dressing room, bedroom, or wherever you apply makeup.
What's the mirror made of?

The frame is made of lightweight aluminum, but the back is built from sturdy iron to give the mirror durability and longevity. The base is made from medium-density fiberboard. The reflective surface extends to the mirror's edges, giving it a frameless look. Our packaging has been tested to withstand extreme shipping conditions, to better ensure your mirror reaches you safely.
How big is the box that will be delivered?

The package is 53 inches (134cm) wide by 41 inches (104.14cm) high and 7 inches (17cm) deep. It should comfortably fit on your porch and be relatively discreet when it arrives. Likewise, it should take up a reasonable amount of space in a package room.
What if the mirror doesn't work or a bulb breaks?

Each individual product we ship is inspected for quality before delivery, and all of our products are securely packaged in methods that have been tested to simulate extreme shipping conditions. We do our best to ensure safe delivery.

We suggest purchasing Route Package Insurance at checkout, as Lumina Pro is not responsible for damage incurred by our products during shipping. The insurance is provided by Route, and they will contact you with all insurance info and terms via email. Route will inform you of the shipping and tracking for your package, regardless of whether you have purchased the insurance.

If your item becomes lost, stolen, or damaged in transit — file a claim with Route directly here. Please note that shipping insurance is non-refundable once your order has shipped.

All of our products come with a 12-month manufacturer warranty. Read more about the warranty here.

If a bulb breaks, burns out, or doesn't light up, two additional 3W LED bulbs are included in the packaging. First unplug your mirror, then switch out the bulb with a fresh one and you should be all set to continue your makeup application.
What's your return policy?

Mirrors in new condition can be returned for an exchange or a refund within 30 days of your purchase date. Shipping on returns is paid for by the purchaser. Read more about our return policy here.
How much does it cost and can I pay in installments?

The Hollywood Vanity Mirror with Lights and Bluetooth Speakers costs $634.99 at checkout, and there are numerous payment options including Apple Pay. Yes, you can pay in installments. We offer the option to pay in 4 interest-free installments of $158.74 using Shop Pay. With Shop Pay, there are no hidden fees and no impact on your credit score to apply.
When will my mirror get here?

All of our products are dispatched within 1-3 business days after your order is placed. We ship domestically as well as internationally, so delivery times will vary. Contact us if there is an issue with your delivery. You can either email us or fill out the form and we will aim to respond within 72 hours.