Regular price
$249.99 USD
Regular price
Sale price
$249.99 USD
Unit price
per
Sale
Sold out
Description

For the makeup enthusiast looking for the perfect vanity setup, our Crystal Vanity Mirror with Bluetooth Speakers now comes with exclusive tri-temperature controls (cool, neutral, or warm). Everyone wants to look their best, and having the best possible lighting helps you apply your makeup perfectly. Use our smart touch controls to find the perfect light setting for your makeup application. And add extra fun to your makeup routine by playing your favorite tracks with our Bluetooth system.
Specifications

Adjustable Brightness: Fully adjustable color temperature 6400K, 3000K, 4200K

Bluetooth Speakers: Bluetooth sound system with touch screen functions

Materials: 201 steel frame, rectangular steel base, and crystals for décor

Warranty: 12-month manufacturer warranty
Dimensions

Frame Dimensions:

Width: 23.62 inches (60 cm)

Height: 30.71 inches (78 cm)

Depth: 2.36 inches (6 cm)

Base Dimensions:

Width: 25.20 inches (64 cm)

Height: 1.18 inches (3 cm)

Depth: 8.7 inches (20 cm)
Features

Touch-sensitive Lumina logo (to switch on, adjust brightness, and customize color temperature)
Bluetooth sound system (with touch screen functions to play/pause/change song)
2 x USB
Energy-efficient duo-tone LED lights
North American 240V power plug
Keyholes for easy wall mounting
Share
View full details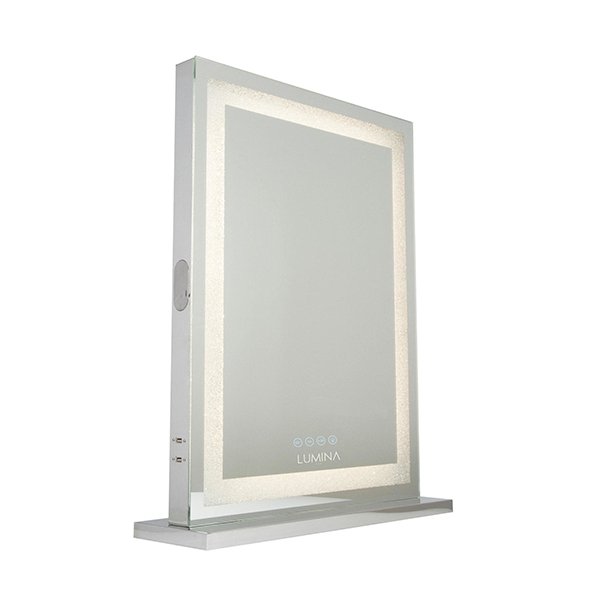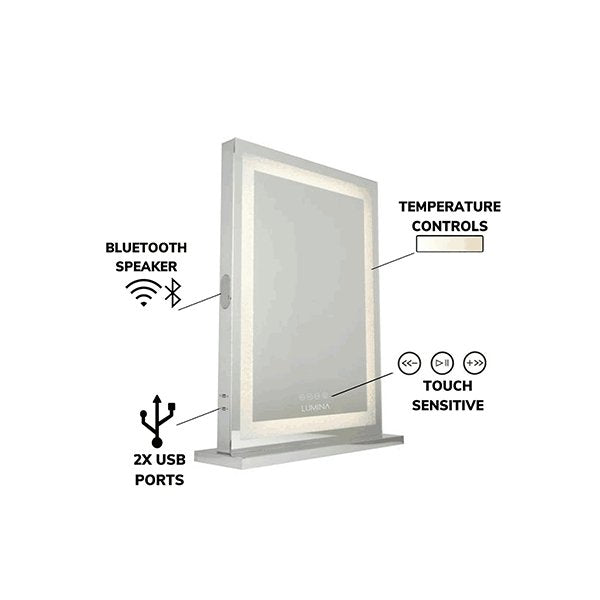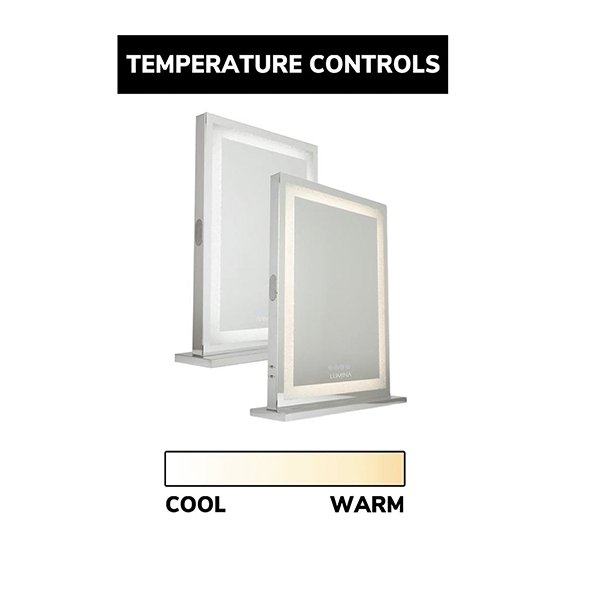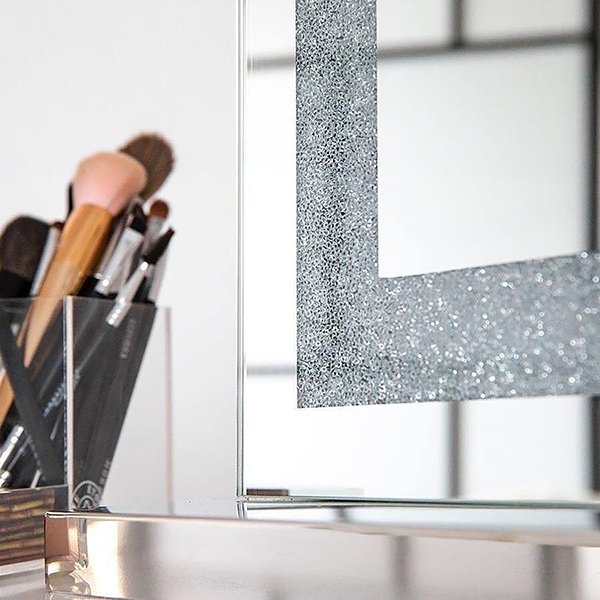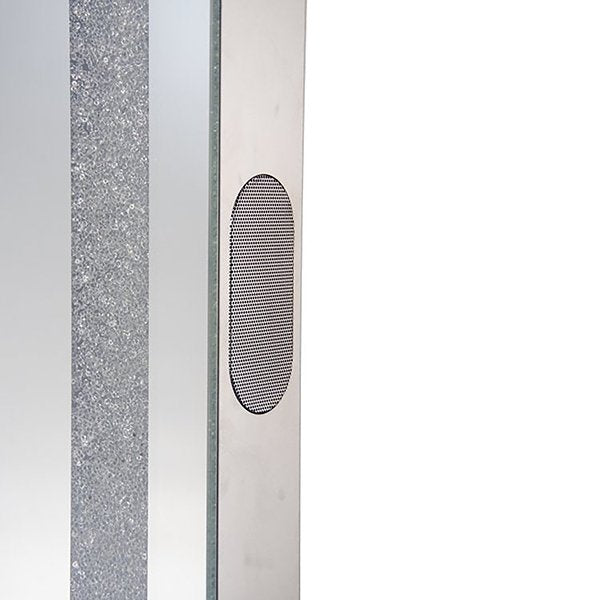 Never walk outside with mismatched foundation again.
FAQ
Does this mirror use LED bulbs?

No, our Crystal Vanity Mirror with Bluetooth Speakers uses an energy-efficient duo-tone LED strip for elegant, even lighting. Bathroom mirrors and clip lamps create shadows under the chin and around the eyes. This Hollywood-inspired beauty mirror will eliminate shadows so you can apply your makeup quickly and accurately. The customizable lighting settings will make your makeup tutorials, demos, and social media content look great. If you prefer LED light bulbs over an LED strip, our Hollywood Vanity Mirror with Lights and Bluetooth Speakers will frame your reflection in 15 energy-efficient, 3W LED bulbs. It's a classy and glamorous LED makeup option.
How do I control the lighting and music while putting on makeup?

A convenient smart touch sensor located on the mirror gives you easy control over the color temperature and brightness. It also lets you play, pause, and skip tracks on the Bluetooth system. No need to break your flow state to dig out your phone if you need to skip a song.
Does the LED strip on this mirror come in different color options?

No, the Crystal Vanity Mirror with Bluetooth Speakers provides white light only, as it simulates full sunlight and is the best lighting for makeup application. This LED mirror's tri-temperature controls allow you to adjust the lighting between warm, cool, or neutral white light. Choose from options of 6400K, 3000K, and 4200K. Applying your makeup with lighting as close as possible to midday sunlight helps your makeup application look its best in various lighting conditions. Color lighting can significantly change the way you look in a mirror. This can make it difficult to accurately apply makeup. For example, you may over-apply to cover blemishes that are enhanced by blue light but aren't visible in natural light. Or you may under-apply under flattering orange or rose-colored lighting because it hides imperfections that may be more visible in the real world. White light is best for makeup application, and the dimmable LED strip on this cosmetic mirror will help you achieve the makeup design you're going for.
Can this mirror recharge my devices?

Absolutely! The Crystal Vanity Mirror with Bluetooth Speakers has 2 USB charging ports, so you can plug in your phone and other rechargeable devices. You can also plug in a USB-powered fan to create a more comfortable and relaxing space for you and your clients. Easily charge your phone while it streams your favorite tunes through the Bluetooth speakers. Keep it within reach while it charges so you can take selfies and find the next song you need to get into the right headspace for your day or night out.
My bathroom mirror has good lighting. Why should I buy the mirror?

For the best makeup application, you need the kind of lighting that professional MUAs use. The Crystal Vanity Mirror with Bluetooth Speakers frames your face with a dimmable LED strip, eliminating shadows and giving you even lighting from every angle. The light from your bathroom mirror is likely too harsh or too flattering, so your makeup design will look different in the real world than it does in front of your mirror. For an accurate makeup application that looks its best under all light sources, you need consistent, even, white light. That way, you can be confident that your makeup looks great — whether you're at the beach, under the fluorescents in the boardroom, or under the wild lighting of a nightclub.
What's the range of the Bluetooth speakers?

The Crystal Vanity Mirror with Bluetooth Speakers allows you to listen to your favorite music while you get ready comfortably. The speakers are designed to sound great within a range of 5.5 feet (2 meters). It likely won't sound its best from across your living room, but this range is perfect for filling your getting-ready space with music that puts you in the best mood for your day. In your studio, you and your clients can enjoy any audio media from your library or streaming apps. Listen to what you want while you put on your makeup. Play your favorite tunes, podcasts, or even audio from TV shows and movies. Set the tone for the day or the night ahead, and make putting on your makeup even more enjoyable.
Do the lights have a dimmer switch?

Brightness controls are included in the smart touch sensors located directly on the mirror, along with the tri-color temperature controls and Bluetooth controls. You can easily dim the lights or make them brighter to suit your preference or get the right look for your tutorial video or demo.
What's the mirror made out of?

The Crystal Vanity Mirror with Bluetooth Speakers has a 201 stainless steel frame, a rectangular steel base, and glitter for décor. It follows safety standards and will be a glamorous statement piece to complement the acrylic makeup brush holders and skincare tools on your vanity.
How much does the mirror cost, and can I pay in installments?

The Crystal Vanity Mirror with Bluetooth Speakers costs $475.99 at checkout, and there are multiple payment options, including Apple Pay. We also offer the option to pay in 4 interest-free installments of $118.99 using Shop Pay. With Shop Pay, there are no hidden fees and no impact on your credit score to apply.
When will my mirror arrive?

All of our products are quality-inspected and dispatched within 1-3 business days after you place your order. Delivery times will vary. Contact us if you feel there is an issue with your delivery. You can either email us or fill out the form, and we will aim to respond within 72 hours.
What if my mirror arrives damaged?

Each individual Crystal Vanity Mirror with Bluetooth Speakers, like all of our products, is quality tested before shipping. Your mirror will be securely packaged in a way that's been tested to withstand extreme shipping conditions. We suggest purchasing Route Package Insurance at checkout, as Lumina Pro is not responsible for damage incurred by our products during shipping. The insurance is provided by Route, and they will contact you with all insurance info and terms via email. Route will inform you of the shipping and tracking for your package, regardless of whether you have purchased the insurance. If your item becomes lost, stolen, or damaged in transit — file a claim with Route directly here. Please note that shipping insurance is non-refundable once your order has shipped. All of our products come with a 12-month manufacturer warranty. Read more about the warranty here.
What's your return policy?

Mirrors in new condition can be returned for an exchange or a refund within 30 days of your purchase date. Shipping on returns is paid for by the purchaser. Read more about our return policy here.
Why do you need a Bluetooth mirror?

A crystal vanity mirror is a must-have for makeup artists, beauty bloggers, and anyone who is serious about makeup! Adding Bluetooth as a feature makes your crystal vanity mirror even more glamorous and convenient. Imagine vibing to your favorite tunes or catching up on your latest podcast obsession while you get ready.

Featuring a crisp, clear reflective surface, touchscreen controls, and built-in illumination, our Bluetooth crystal vanity mirrors provide luxury and comfort while you do your makeup. The lighting is optimized for makeup application — unlike standard bathroom vanity lights or clip lamps. The touchscreen integrates with your lighting and sound for an immersive makeup experience.

Simply pair the mirror to your phone or any Bluetooth-enabled device and stream your favorite music or podcast, or select it from your music inventory. You can even listen to TV shows and movies from streaming services or your digital library. Control the soundtrack of your makeup routine and set the tone for your day — or your night out.

If you're a professional makeup artist, your clients will love being able to relax and enjoy music while they're in your chair. A Bluetooth-enabled lighted makeup mirror makes your makeup studio more professional and fun. You'll be able to create your makeup design with proper lighting, plus groove along to music as you work! A high-quality crystal vanity mirror is also much more durable and crisper than your standard bathroom mirror.
What type of crystal mirror does Lumina Pro offer?

Lumina Pro's crystal vanity mirror is equipped with Bluetooth speakers. Easily pair it with your phone or laptop, then enjoy your favorite songs as you do your makeup routine or push your creativity with your latest makeup design. Intuitive touch screen controls allow you to play, pause, or skip tracks right from the mirror. Two USB ports make it convenient to charge your phone or plug in a USB-powered fan or another device.

This vanity makeup mirror also features three color temperature settings (cool, neutral, and warm) as well as adjustable brightness. You can select a warmer temperature of 3000 Kelvins or a vivid bright daylight setting at 6400 Kelvins. Tweak the luminosity and color temperature until you get the perfect lighting!

Bluetooth-equipped vanity mirrors make it even easier to enjoy your very own glam room. Order yours today from Lumina Pro and enjoy sturdy construction, intuitive touch controls, classy glitter accents, and tri-temperature light settings.