Regular price
Sale price
$49.99 USD
Unit price
per
Sale
Sold out
Description

Need a clean, stylish way to store your makeup brushes? Our Large Makeup Brush Holder with Lid has 5 slots and will organize and protect your brushes in style. They'll look great on your bathroom counter or dresser, and the dust-proof lid will keep your brushes clean, dust-free, and bacteria-free. The base is made of thick, clear acrylic so it won't be knocked over or damaged.

Don't let your makeup brushes roll around in your makeup bag again.

*Brushes not included
Dimensions

Large

Height: 9 inches (22.9 cm)

Width: 12 inches (30.5 cm)

Depth: 3.5 inches (8.9 cm)

Medium

Height: 8.7 inches (22 cm)

Width: 8.2 inches (20 cm)

Depth: 3.5 inches (8.9 cm)
Share
View full details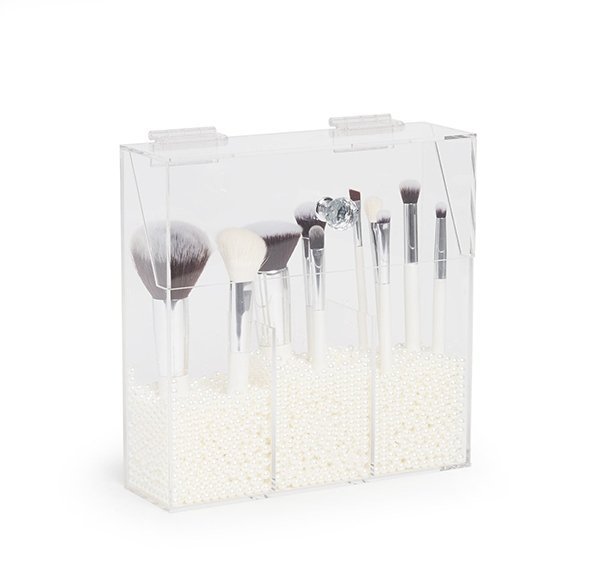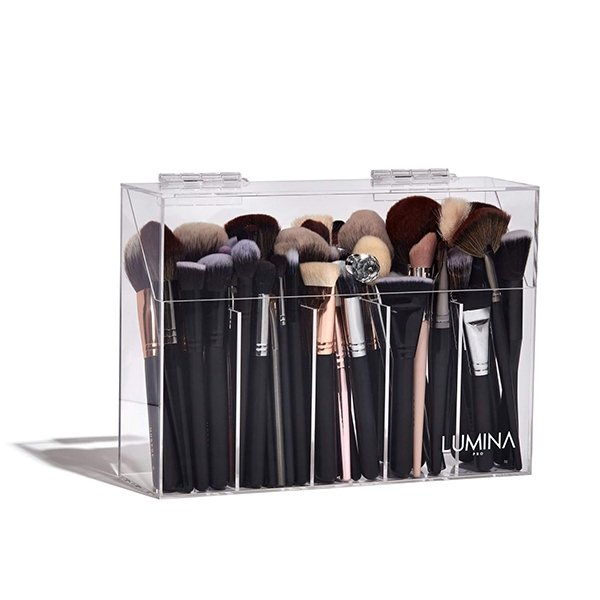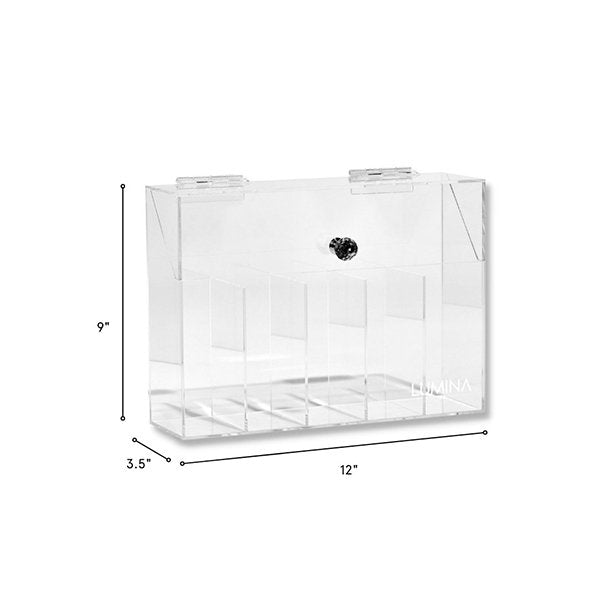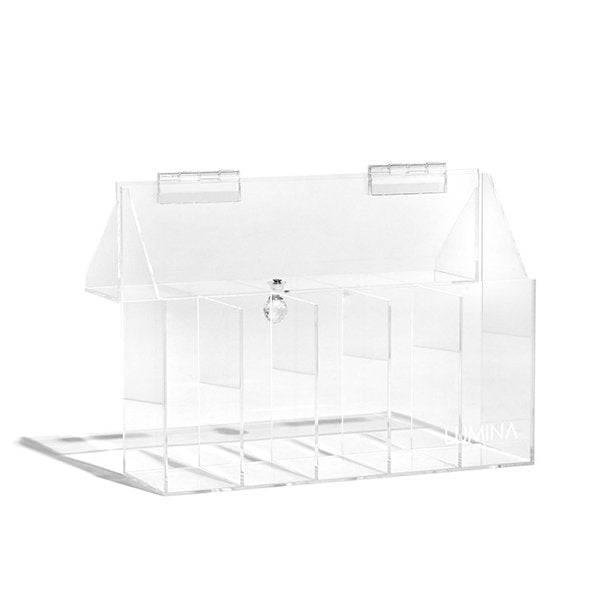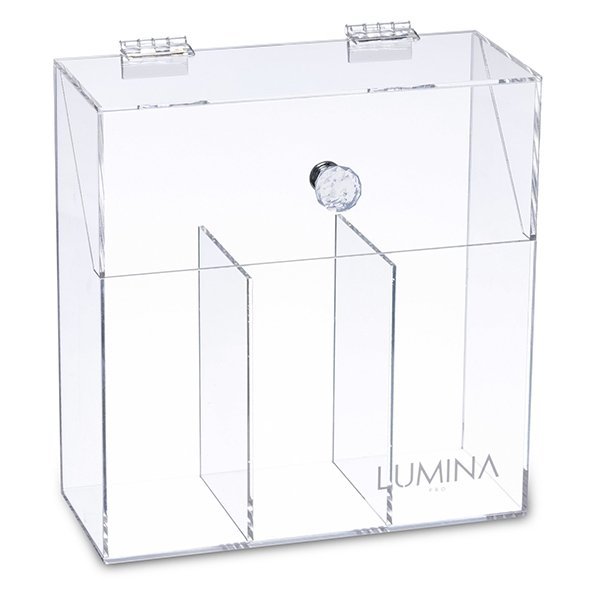 Never walk outside with mismatched foundation again.
FAQ
I store my brushes in a mason jar. Why buy a holder?

We've all used a makeshift vanity organizer at some point — like a makeup brush cup, pencil holder, or mason jar. But if you're serious about taking care of your valuable tools, nothing beats an acrylic makeup brush organizer holder with a dust-proof lid. The Makeup Brush Holder with Lid is perfect for professional MUAs and makeup enthusiasts who want to take their vanity to the next level and keep their brushes free from contaminants and humidity.
Is this holder just for makeup brushes?

The Makeup Brush Holder with Lid is designed to store your cosmetic brushes in style easily, and other items like jade rollers and makeup pens can also fit comfortably. This multipurpose holder is divided into five slots so you can keep everything organized. Made from crystal clear acrylic, it's also a stylish display case. The 5-slot design is our largest makeup brush holder, and it can keep everything else on your vanity organized and protected. If you have fewer brushes or want to add more storage space to the 5-slot design, check out our 3-slot makeup brush holder.


Additionally, the 5 Drawer Acrylic Makeup Organizer and 4 Slot Acrylic Beauty Sponge Holder are great cosmetic desk organizers. The acrylic makeup organizer and sponge holder will keep your sponges, eyeshadow, lip gloss, mascara, eyeliners, nail polish, and palettes neat and easy to find — rather than scattered on your countertop or buried in your bathroom drawers or cosmetic bag. This classy cosmetic organizer also makes a great lipstick holder. The brush and cosmetic organizers, plus the makeup sponge storage holder, will elevate your home decor and look great in your studio.
I have a lOT of brushes. Will this makeup brush holder be able to hold everything?

This acrylic makeup brush holder is designed to accommodate the sizable brush collections of pro MUAs and makeup enthusiasts. The 5-slot design has five compartments, each about 2.5 inches (6 cm) wide, 3.5 inches (9 cm) deep, and 9 inches (23 cm) tall. This allows you to store your full variety of brushes — and it makes makeup brush drying easier as it keeps your brushes pointed up where the air can reach the bristles. The Makeup Brush Holder with Lid will protect your extensive brush collection while keeping them organized in one place on your vanity or tabletop. This way they're easy to find and within arm's reach while you're creating a makeup design, doing your makeup routine, or shooting demos and makeup tutorials. To give your vanity a stylish, unified aesthetic, also check out Lumina Pro's 5 Drawer Acrylic Makeup Organizer and 4 Slot Acrylic Beauty Sponge Holder. The acrylic cosmetic storage box and the sponge holder will match the style of your brush organizer and take your getting-ready space or studio to the next level.
I'm a professional makeup artist. How will this makeup brush holder benefit me?

All of our products are designed both for professional makeup artists and anyone who loves makeup. If you're always on the go to different shoots, sets, and dressing rooms, it can feel like your brushes only leave your makeup bag long enough for you to wash them and put them on the drying rack. But for when there's down time or you're in-between gigs, this holder will give your cosmetic brushes storage they deserve. They need a place where they can be protected — better than they can be at the bottom of your travel bag buried under your travel makeup or left out on the sink after they're dry. To prolong the life of your brushes and keep track of where everything is, our cosmetic brush storage organizer will help you stay organized and get the most out of the life of your brushes. The storage case is made of clear acrylic with a dustproof lid, so it will protect your brushes and is easy to clean. This brush holder isn't designed to be a travel case, but if your clients come to you this acrylic brush holder is an attractive solution for makeup brush storage. Easily keep all your brushes organized in one place, so you never go hunting for a brush while you have a client in the chair. This also allows you to confidently shoot makeup demos and tutorials, social media content, and anything else for your brand without having to stop and look for something. All your brushes will be organized and within easy reach.
How do I clean the makeup brush holder?

Your brushes come into contact with your face and the faces of your clients, so of course, simple soap and water isn't enough to ensure your clear acrylic makeup brush holder is thoroughly disinfected. But it's easy to keep Lumina Pro's Makeup Brush Holder with Lid sparkling clean. To clean this brush storage box, you only need a soft cloth, water, and a mild detergent. Don't use any products that contain alcohol, as that can damage the acrylic. Also avoid acetone and harsh cleaners.
Can I pay for the makeup brush case in installments?

Yes. If you don't pay in full at checkout, you can also pay in four interest-free installments with Shop Pay. There are no hidden fees and no impact on your credit score to apply.
How long will it take for my order to arrive?

The processing time for orders is typically 1-3 business days. After that, your makeup brush organizer box should be in the mail. However, shipping times vary depending on your location. If it seems there's an issue with your order, contact us.
Can I cancel or change my order?

If you decide to cancel or change your order, email us at info@luminapro.co. However, your order can only be canceled or changed if it hasn't yet been dispatched by the warehouse. It generally takes 1-3 business days to process an order and send it out.
What if my makeup brush holder is broken when it gets to me?

All of our products are inspected individually before they're sent to you. And we've simulated extreme shipping conditions to ensure our packaging will get our products to you safely. We suggest purchasing Route Package Insurance at checkout, as Lumina Pro is not responsible for damage incurred by our products during shipping. The insurance is provided by Route, and they will contact you with all insurance info and terms via email. Route will inform you of the shipping and tracking for your package, regardless of whether you have purchased the insurance. If your item becomes lost, stolen, or damaged in transit — file a claim with Route directly here. Please note that shipping insurance is non-refundable once your order has shipped.
What's your return policy?

We'll accept return requests for items that are unopened, unused, and with the original packaging intact. This includes the original box. The purchaser is responsible for all return shipping costs. We are unable to accept returns on items that arrive cracked or broken. If an item arrives damaged, you can file a claim with Route. Please ensure the product you're returning is securely packaged and arrives at our facility in the same condition in which it was shipped to you. If you decide to return an item, we must receive your request within 48 hours of the date you received the item. To get your return started, email us at info@luminapro.co. After you send us the return request, and we notify you that your return has been approved, you have 10 days to ship your item back to our facilities. If the item is not shipped within the 10 day period following the notification that the return has been approved, no return will be issued. Accordingly, our return policy is 10 days. Please note that all vanity mirrors, including but not limited to our Hollywood Table Top Mirror and Crystal Vanity Mirror with Bluetooth Speakers are FINAL SALE. We cannot accept returns or exchanges for vanity mirrors. You can check out our return policy here.
Why do I need this clear brush holder?

Whether you're a professional makeup artist or a makeup enthusiast, your makeup brush set is an investment. If they're stored in a makeup brush bag, pencil case, brush holder cup, or mason jar, they've vulnerable to damage and contaminants like dust and bacteria.

If you've ever discovered little stray hairs all over your face after applying powder, you've seen what happens when your fluffy brush starts to degrade! Not to mention the dust, microbes, and oils that accumulate on brushes that can undermine your skincare efforts and be a hazard to your clients! To keep your brushes clean and maximize their lifespan, it's essential to keep them in the right brush case.

As with anything you put on your face — makeup, lotion, toiletries, etc. — storing your cosmetic brushes in a damp or dusty bathroom drawer invites contamination. A makeup brush holder-organizer is the ideal solution.

This way, your brushes can be stored the CUTE way:

Clean: Keep dust, hairs, and chemicals like hairspray from collecting on the tips.
Upright: Prevent damage by storing your brushes with the bristles pointed up.
Tidy: Dividers keep your brushes sorted by type, shape, and size.
Easy to grab: De-stress your makeup routine by keeping your brushes within reach — no more rummaging through drawers!

People who love makeup often settle for mason jars, candle holders, pen holders, or other multifunctional options for makeup brush storage. But if you're a pro MUA or want to get serious about taking care of your valuable tools, a professional organizer case is the ideal storage solution.
What types of makeup brush organizers does Lumina Pro offer?

Lumina Pro offers 5-slot and 3-slot makeup brush holders. They are made of made of high-quality acrylic, which is easy to clean, stain-proof, and attractive in any space. Our 5-slot makeup brush organizer includes 5 compartments, each about 2.5 inches (6 cm) wide, 3.5 inches (9 cm) deep, and 9 inches (22 cm) tall. This large capacity holder allows you to store your full variety of brushes, plus your jade rollers, eyebrow pencils and brushes, spoolies, and more.

Medium Makeup Brush Holder with Lid

Height: 8.7 inches (22 cm)

Width: 8.2 inches (20 cm)

Depth: 3.5 inches (8.9 cm)

Large Makeup Brush Holder with Lid

Height: 9 inches (23 cm)

Width: 12 inches (30 cm)

Depth: 3.5 inches (9 cm)

This premium brush storage container has a flip-top lid, perfect for keeping dust, debris, and microbes off your brushes. While of course it's always best to keep your brush holder in a dry place rather than your bathroom counter, but the lid will help keep humidity and spores out of your brushes. This will help ensure they stay clean and fresh for the next time you apply makeup!
Why buy your makeup brush organizer from Lumina Pro?

If you're a makeup aficionado, you probably have quite the collection of brushes and other tools. Your vanity's drawers might be overflowing — and if you have limited countertop space, that's a problem! Plus, if you have makeup clients, record demo videos or tutorials, or simply want to reduce the stress of your makeup sessions, you need an efficient, sanitary way to store your makeup brushes.

Lumina Pro's Large Makeup Holder with Lid is sturdy, stylish, and easy to clean. That isn't the case for many cloth-based, small, or dust-magnet organizers out there. Protect your brushes and ensure they stay clean and shed-free for as long as possible. With a space-efficient, tidy, and professional-quality brush holder from Lumina Pro, you can level up your glam room and store your makeup brushes in style.